Home > Products > Photodiodes > Photodiodes for 0.8-2.5 µm spectral range
Photodiodes for 0.8-2.5 µm spectral range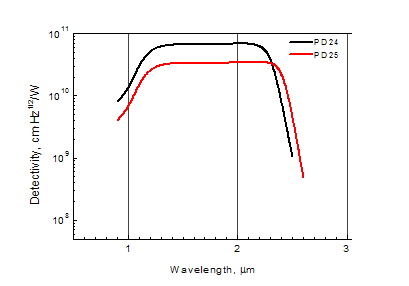 The PD25 series of photodiodes for 0.8-2.5 µm spectral range are produced on the base of the GaSb/GaInAsSb/GaAlAsSb heterostructure. The main advantage of this heterostructure is high crystalline quality of epitaxial layers with low density of dislocations (104 cm–2). The doping level of the active GaInAsSb layer (up to 1014-1015 cm–3) makes it possible to reach low capacity and high speed of response for PDs. Photodiodes are manufactured with the sensitive area diameters from 50 µm to 3 mm. PDs with a sensitive area of 50-100 µm in diameter are High Speed (ultrafast).
Main applications:
- Diode-Lasers spectroscopy;
- Laser rangefinding and location systems in the eyesafe spectral range;
- The free-space optical links;
- Communication systems based on fluoride fibers with loss of 10–2-10–3 dB/km;
- Environmental monitoring;
- Medicine;
- Remote non-contact temperature measurements;
- Detection of the burning or explosion products.
PDs 0.8-2.55 µm
Sensitive Area Diameter (mm)
Package
Wavelength Range (µm)
Detectivity (cm∙Hz1/2∙W−1)
Series
Model
PD25
0.3
TO-18
TO-18
TO-18
TO-5
TO-5
0.8-2.55
(1-5)∙1010
PDXX-YY – PD model in TO-18 package
PDXX-YYY-HS – High Speed PD model in SMA package
PDXX-YY-HS – High Speed PD model in TO-18 or TO-46 package
PDXX-YY-PR – PD model in TO-18 with parabolic reflector
PDXX-YY-PRW – PD model in TO-18 package with parabolic reflector PR and quartz/or sapphire window W
PDXX-YY-TEC – PD model in TO-5 package with thermocooler TEC and a cap
PDXX-YY-TEC-PRW – PD model in TO-5 package with thermocooler TEC, parabolic reflector PR and quartz/or sapphire window W
AMPXX-YY (with PDXX) – PD model with build-in amplifier AMP and thermocooler TEC